Climate Action Plan
MCA member companies are taking serious action on climate change and are committed to the Paris Agreement and the net zero emissions goal. The MCA Climate Action Plan outlines a series of actions the MCA and members will undertake to meet Australia's commitment
Overview
Climate action is a global undertaking of major technological, economic and social challenges in which Australia and the minerals sector must play their part.
The 2020-2023 Climate Action Plan outlines a series of actions focused on three key themes:
Support developing technology pathways to achieve significant reductions in Australia's greenhouse emissions
Increased transparency on climate change related reporting and informed advocacy
Knowledge sharing of the sector's responses to addressing climate change
This plan is reviewed annually to ensure it remains consistent with Australia's climate policy ambitions in support of the Paris Agreement.
Climate Action Plan – Progress Report Year 2
Building on the 30 actions identified in the first Climate Action Plan released in 2020, this progress report provides an update on how the industry is progressing these measures and keeping emissions as low as possible.
In the face of unprecedented demand and value growth for Australian metals and minerals, the progress report confirms that 93 per cent of measures contained within the Plan have commenced, and 80 per cent are on track in Year 2.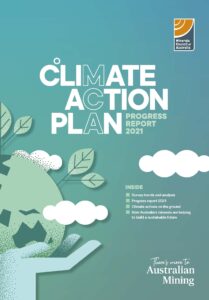 Climate Action Plan – Progress Report Year 1
 The first progress report on the MCA's Climate Action Plan demonstrates emissions reductions in Year 1 and potential reductions in the future. The progress report draws on publicly reported emissions data and a survey of full MCA members reporting to federal compliance schemes.
While all MCA members are committed to the climate goals of the Paris Agreement, well over three quarters of surveyed members' FY2020 emissions are covered by companies committed to achieving net zero emissions by 2050. A similar proportion is working towards aligning corporate reporting with the recommendations of the Task Force on Climate-related Disclosures (TCFD), which is supported by the MCA and aims to improve and increase company reporting of climate-related financial information
The progress report highlights 12 case studies demonstrating how the industry is taking practical climate action, including the rollout of renewables, carbon capture and storage development, methane capture and conversion, electric and autonomous vehicles investments, battery storage and hydrogen trials and exploration efficiencies.